The 797 HP 2019 Dodge Challenger SRT Hellcat Redeye is unveiled and maybe the successor to the Demon, which will no longer be in production after this year. The limited edition Dodge Demon may be gone, but its spirit will live on in the 797 HP 2019 Dodge Challenger SRT Hellcat Redeye.
The Hellcat Redeye features an engine that shows a few components from the 808 HP Demon. It's 6.2-liter Supercharged V8 is an effort to outdo the original Hellcat's 707 HP with an engine that produces 797 HP.
Some of the upgrades include a bigger 2.7L Supercharger, an induction system with twin snorkels on the hood, dual fuel pumps, and a "Power Chiller" that can use the AC to cool the intake air, which stores more oxygen into the cylinders to create larger bangs.
The Redeye also has some of the Demon's drag racing technology. This includes a launch control system programmed to reduce wheel hop, and a line-lock, which brakes just the front wheels to make it easier to warm up the tires with a burnout. At the same time, the Demon had some of its components retired. This includes the Drag Mode calibration, the transmission brake and optional race gas compatible engine control unit to help keep the 3,300 models that were built as rare as possible.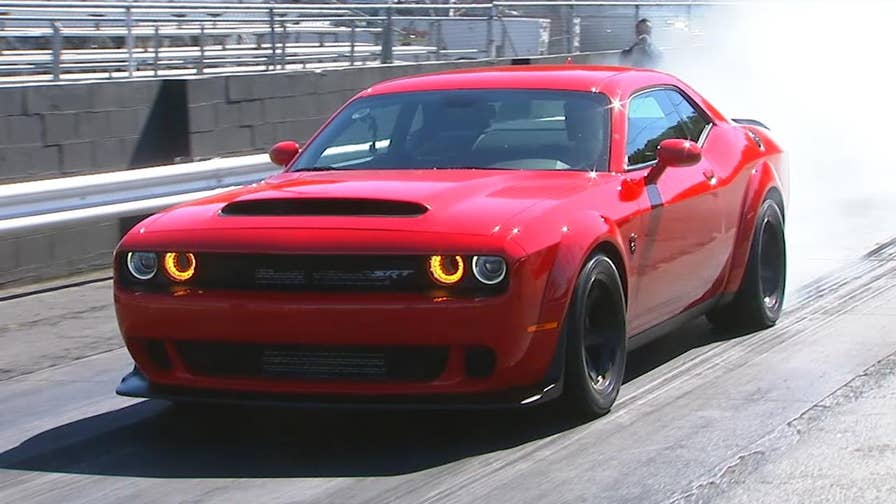 Dodge is offering the Hellcat Redeye in widebody and normal versions. Both versions claim a top speed of 203 MPH. The wider tires on the widebody help produce a 10.8-second quarter-mile time, vs the standard version quarter-mile time of 11.1 seconds.
The Hellcat won't be offered from the factory with just one seat like the Demon was, but a rear seat and belt delete package is available to turn it into a two-passenger vehicle.
Pricing for the Hellcat Redeye remains to be seen. It won't be announced until later this fall, but experts say it should be priced between the 2018 Hellcat's $65,995 and Demon's $84,995.
Categories:
Blog